From the Proceedings of the 9th SAR – International Conference on Artistic Research
April 2018, University of Plymouth, UK
Abstract
Against the backdrop of discussions around New Materialisms, art-based research can provide a rich expertise in linking the material and the discursive realm through a combined conceptual and practical approach. Its inventiveness in the field of methods suggests that it can be a good source for finding productive ways of confronting the "material-discursive vortex" and immersing oneself in it. This paper presents specific methods, their open-ended development and their application from within the plastic arts. These methods were used to collectively explore and evolve multiple interwoven layers of understanding and working with "stuff", especially focussing on material performances and activities. The mentionned layers span from intimate studio work to shared bodily experiences, collective contextualizations in contemporary discourses and further to the wider networks of materiality. The presented insights and examples are drawn from recent art-based research projects and theoretical-practical seminars.
About the conference topic
If artistic research eats itself, digests itself and then releases its own waste, does it stink and linger, fertilise new growth or invade new destinations on the bottom of someone's shoe? If we are to constantly defend and define, are we in danger of having no art left, only the claims for its ability to embody knowledge? When we bite off our own heads do we grow new tails?
Critical perspectives on the discourse surrounding artistic research might be argued to already be too formulaic or self-defeating. Making a case for its own institutional legitimacy could unwittingly reinforce some of the very things artistic research aims to critique. Yet such onto-epistemological paradoxes can offer a rich territory for exploration along with generative practices that involve reflexivity, automorphogenesis, and recursive feedback loops. In recognising auto-cannibalism as an analogy for broader socio-political and environmental concerns, one of the challenges for artistic research is to respond imaginatively to the dynamic tensions between self-destruction and regeneration.
Dissertation at the Academy of Media Arts Cologne (GER)
Abstract
Materials are active. They do something. Materials are in constant exchange with their environment with which they act. They can transform themselves and other materials. Thus, the Plastic Arts have to face the fact that materials are not just passive or mere recipients of formal ideas conceived by humans. By acknowledging material acitivities, the arts' repertoire can be extended significantly. This also leads to more complex ways of creation, participation and reception.
This dissertation develops the theoretical foundations for a paradigm of material activities in the Plastic Arts grounded in intense personal art practice. It investigates the effects on thinking, imagining and acting with active materials through art. The result is a conceptual toolbox for artistic production and reception. In the three main parts, the dissertation discusses contemporary conceptions of materials and stuff, explores the exchange between imagination and material environment, and develops guidelines for ways in which material components become and stay active. The conducted investigations concern themselves both with concrete material activities and with phenomena emerging from the interplay between stuff and imagination. Numerous examples help with navigating the complex layers of materiality, while new ways of working like "conversation" or the "mangle of artistic practice" support approaching materials as partners.
Simplified table of contents
1 Introduction
2 Matter/Material in becoming
3 Imagination and the material world
4 The Paradigm of material activity in the plastic arts
5 Conclusion
"Zum Paradigma materieller Aktivität in den Plastischen Künsten"
Schriftenreihe: Dissertationen der Kunsthochschule für Medien Köln (KHM DISS 8)
Date: 2017
337 pages
num. color figs.
Language: German
Workshop, Zurich University of the Arts, 2013
….description will be online within a few days….
Matter is in flux. Its flows can be encountered on different scales of space and time. The characteristics of these flows influence researchers in their active and direct material engagement. Raw Flows investigates how fluidity and flow carve their specific paths into experimental practices and thinking patterns.
This book is a result of the art-based research project Liquid Things. It gathers contributions from arts, history of science, fluid dynamics, design, art history and cultural studies. The inclusion of these fields offers a diversified perspective on the material property and general phenomenon of fluidity. Within this spectrum, the book explores fluidity's entanglement with becoming and change, asking which roles it plays in relation to the epistemic, the aesthetic and the experiential.
Table of contents
Hans-Jörg Rheinberger – "In constant flux: Thoughts about the epistemic"
Benjamin Steininger – "Lubricants as liquid agents in machines"
Inge Hinterwaldner – "Surfing the waves: On the Role(s) of Tracer Materials in Turbulence Experiments"
Jean-Marc Chomaz – "The Flow"
Evelina Domnitch and Dmitry Gelfand – "Winding the Vacuum"
Documentary section about the exhibition "Kontinuum"
Roman Kirschner – "The coupling of matter and imagination in fluid ecologies"
Esther Moñivas Mayor – "Observing from inside the drift: the studio as a flux condenser"
Karmen Franinovic – "Thinking Active Materials: Actively Thinking Materials"
DeGruyter 2017
148 pages
num. color figs.
Language: English
Art-based research project, 2012-2016
Materials showing properties and behaviours that can be called "fluid" were central to Liquid Things' art-based research. Among these are for example polymers, hydrogels or silicones. In the project we concentrated on very few materials like electroactive polymers, custom metamaterials showing special optoacoustic properties, and PVA-based polymers. Our core interest lay in the productive pertinacity and potency of such materials that oscillate between stability and instability. Instead of reducing these materials to passive stuff or compliant construction material, one of our premises was to give them as much freedom of action as possible. In this way we were able to ensure enough room for these materials to take an active and formative role in artistic and theoretical work. The materials' inner dynamics and tendencies were important starting points for our artistic material investigations, which were moving between studio, kitchen and chemistry lab. These investigations explored the aesthetic and epistemic potentials of fluid and changing materials and examined their impact on thinking and imagination. By integrating and expanding the results of scientific material research into a framework of  experimentation in the arts we established an art-based material science, which is not to be understood as a technical auxiliary science to the arts, but as an art-centered, material-conscious, and method-reflexive practice. Alongside the development of prototypes and installations, understood as abstract narrative constellations staging material processes in action and flux, our goal was to follow a continuous reflective practice. This theoretical practice served as the platform to assess the used methods, adapt them according to new circumstances or obstacles and thus collaboratively extend our methodological, material and theoretical basis.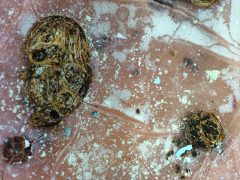 "Liquid Things" was funded by the Austrian Science Fund in the framework of PEEK (Programm zu Erweiterung und Erschliessung der Künste) and based at the department for Art&Science at the University of Applied Arts Vienna (Prof. Virgil Widrich).
More detailled information on the project's website.
Credits
Partners, collaborators, and supporters
Yunchul Kim, Karmen Franinović (Zurich University of the Arts), Silvain Michel (Swiss Federal Laboratories for Materials Science and Technology), Florian Wille (Zurich University of the Arts), Ruairi Glynn and Benjamin Haworth (Bartlett School of Architecture), Manuel Kretzer (ETH Zurich), Aernoudt Jacobs (Overtoon Brussels), Tobias Nöbauer (University of Vienna), Unyong Kim and Indra Jäger (Gallery Im Ersten), Constantin Luser, Philipp Haffner, Anton Ovidiu, Karin Haas, Heiko Schmid, Thomas Laureyssens, Matthias Tarasiewicz, Lucia Ayala, Georg Trogemann (Academy of Media Arts Cologne), Allison Kudla (Institute for Systems Biology Seattle), and Jens Hauser (University of Copenhagen)
Supporters at the University of Applied Arts Vienna
Institute of Fine Arts and Media Arts / Art and Science: Virgil Widrich (Project Director of Liquid Things), Bernd Kräftner, Valerie Deifel, Juliana Herrero, Sonja Orman
Support Art and Research: Alexander Damianisch, Angelika Zelisko, Wiebke Miljes, Franziska Echtinger
Institute of Art and Technology / Technical Chemistry and Science Visualization: Alfred Vendl, Bernhard Pichler, Leonhard Gruber
Information, Publication and Event Management: Anja Seipenbusch-Hufschmied

Exhibition, Galerie "Im Ersten", 2015
Participating Artists
Evelina Domnitch, Dmitry Gelfand, Aernoudt Jacobs, Yunchul Kim, Roman Kirschner
More photos of the exhibition can be found on the website of liquid things.
Description
The relationship between the human and non-human is currently under intense discussion. The view that the world is subject to human exploitation and control was dominant for many centuries. But the idea of natural resources being abundant as well as the idea of a stable material world that is under human control and enduring the forces of nature are dated and problematic. As a consequence, matter is increasingly perceived as embedded in life processes and rich meshworks of relations (cultural, social, chemical, physical, etc.). From these surrounding factors and exchanges it draws its properties, potentials and meanings.
In the light of this expanded perspective on matter, the research project LIQUID THINGS investigates creative processes that go beyond the use of "finished" and pre-fabricated materials. These "finished" materials only represent a small choice of possibilities in comparison to the material continuum that the world consists of. The continuum's full spectrum contains many more impurities, mixtures, combinations and singularities than can ever be captured in an abstract philosophical notion of matter or any physical/chemical categorization. All the special cases and exceptions – which are rather the rule – are meeting points for encounters with the continuum's plurality and extensive complexity. The exhibition KONTINUUM presents some particular processes of materialization and shows how five artists have dealt with matter's dynamics, recalcitrances and activities.
Curator: Roman Kirschner
Performances
Aernoudt Jacobs
"Brasov"
Live-manipulation of the installation "Color of Noise"
Yunchul Kim
"Rössler Attractor with Live Setup"
Live Performance and sound generation via Rössler Attractor Algorithm
Evelina Domnitch and Dmitry Gelfand
"Sonolevitation"
A 15kHz standing sound wave creates alternating areas of strong pressure and vacuous pockets. Acoustically levitated within these low-pressure voids, the leaves of gold spin and vibrate with infinitesimally discernible aural consequences.
DJ Soulglo
DJ-set by the local sound expert and part of the duo "Microthol".
Floor Plan
Special Thanks to Indra Jäger, Unyong Kim, Constantin Luser, Philipp Haffner, Anton Ovidiu and Karin Haas
Symposium, University of Applied Arts Vienna, 2014
Participants
Hans-Jörg Rheinberger, Friedrich Weltzien, Evelina Domnitch, Dmitry Gelfand, Inge Hinterwaldner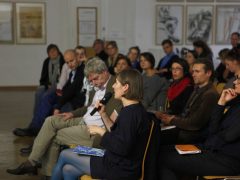 More photos and videos of the symposium can be found on the website of liquid things.
Description
In artistic and scientific practices materials with fluid properties abound. Within the context of art production, for instance, liquid paints, photographic chemicals, or molten metals are commonly used; moreover, works of art such as objects or installations occasionally display fluid materials in action. In scientific laboratories too fluid substances play an important part within diverse experimental contexts. Whether as auxiliary means in apparatuses and devices or as the actual object of analysis: research can hardly be imagined without suspensions, gels, gases, solutions and the like. Lab and studio, experiment and exhibition, scientific as well as artistic explorations (and their many intersections) are not only equipped with concrete or technical things such as instruments, tools, solid materials or objects, but also with all kinds of liquid things that resist total fixation and reification.
The working and involvement with soft, fluctuating or ephemeral materials poses specific challenges. This applies to both practice and theory: In artistic and scientific practice specialised know-how and strategies are necessary to do justice to the mutability, instability, formlessness and processuality characteristic of fluid materials. The same counts for their theorisation in the context of contemporary debates on materiality. The dealing with and the thinking about materials in flux are the main topics of the lecture event "Flows (Un)bound". At the centre of attention are the aesthetic and scientific potentials inherent to fluid substances and issues of their recalcitrance and productivity. Furthermore, it shall be discussed to what extent the characteristics of fluids may encourage different forms of imagination and alternative epistemologies.
Organizers: Marcel Finke and Roman Kirschner
Research into the organization of collective imagination – with the help of 25 artist and researchers.
Participants
Allison Kudla, Lennart Frank, Jörg Lindenmaier, Els Viaene, Tanvi Srivastava and Dave Vasant, Kerstin Ergenzinger, Lucía Ayala, Luis und Linus Negron, Andreas Hirsch, Maarten Crivits, Jarim Kim, Helga Schania, Stijn Pardon, Sarah Kesenne, Sung-Jae Lee, Tobias Grewenig, Olaf Val, Yuyeon Yang, Silvan Kaelin, Stefaan Viaene, Thomas Laureyssens, Younju Hee and Dieter Van Dam
Produced for Arko Art Center
Special thanks for the versatile and kind support to Jaewon Choi.
Photographies by Arko Arts Center