Liquid Things
Art-based research project, 2012-2016
Materials showing properties and behaviours that can be called "fluid" were central to Liquid Things' art-based research. Among these are for example polymers, hydrogels or silicones. In the project we concentrated on very few materials like electroactive polymers, custom metamaterials showing special optoacoustic properties, and PVA-based polymers. Our core interest lay in the productive pertinacity and potency of such materials that oscillate between stability and instability. Instead of reducing these materials to passive stuff or compliant construction material, one of our premises was to give them as much freedom of action as possible. In this way we were able to ensure enough room for these materials to take an active and formative role in artistic and theoretical work. The materials' inner dynamics and tendencies were important starting points for our artistic material investigations, which were moving between studio, kitchen and chemistry lab. These investigations explored the aesthetic and epistemic potentials of fluid and changing materials and examined their impact on thinking and imagination. By integrating and expanding the results of scientific material research into a framework of  experimentation in the arts we established an art-based material science, which is not to be understood as a technical auxiliary science to the arts, but as an art-centered, material-conscious, and method-reflexive practice. Alongside the development of prototypes and installations, understood as abstract narrative constellations staging material processes in action and flux, our goal was to follow a continuous reflective practice. This theoretical practice served as the platform to assess the used methods, adapt them according to new circumstances or obstacles and thus collaboratively extend our methodological, material and theoretical basis.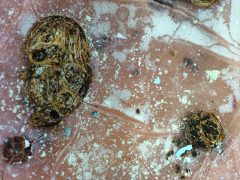 "Liquid Things" was funded by the Austrian Science Fund in the framework of PEEK (Programm zu Erweiterung und Erschliessung der Künste) and based at the department for Art&Science at the University of Applied Arts Vienna (Prof. Virgil Widrich).
More detailled information on the project's website.
Credits
Partners, collaborators, and supporters
Yunchul Kim, Karmen Franinović (Zurich University of the Arts), Silvain Michel (Swiss Federal Laboratories for Materials Science and Technology), Florian Wille (Zurich University of the Arts), Ruairi Glynn and Benjamin Haworth (Bartlett School of Architecture), Manuel Kretzer (ETH Zurich), Aernoudt Jacobs (Overtoon Brussels), Tobias Nöbauer (University of Vienna), Unyong Kim and Indra Jäger (Gallery Im Ersten), Constantin Luser, Philipp Haffner, Anton Ovidiu, Karin Haas, Heiko Schmid, Thomas Laureyssens, Matthias Tarasiewicz, Lucia Ayala, Georg Trogemann (Academy of Media Arts Cologne), Allison Kudla (Institute for Systems Biology Seattle), and Jens Hauser (University of Copenhagen)
Supporters at the University of Applied Arts Vienna
Institute of Fine Arts and Media Arts / Art and Science: Virgil Widrich (Project Director of Liquid Things), Bernd Kräftner, Valerie Deifel, Juliana Herrero, Sonja Orman
Support Art and Research: Alexander Damianisch, Angelika Zelisko, Wiebke Miljes, Franziska Echtinger
Institute of Art and Technology / Technical Chemistry and Science Visualization: Alfred Vendl, Bernhard Pichler, Leonhard Gruber
Information, Publication and Event Management: Anja Seipenbusch-Hufschmied